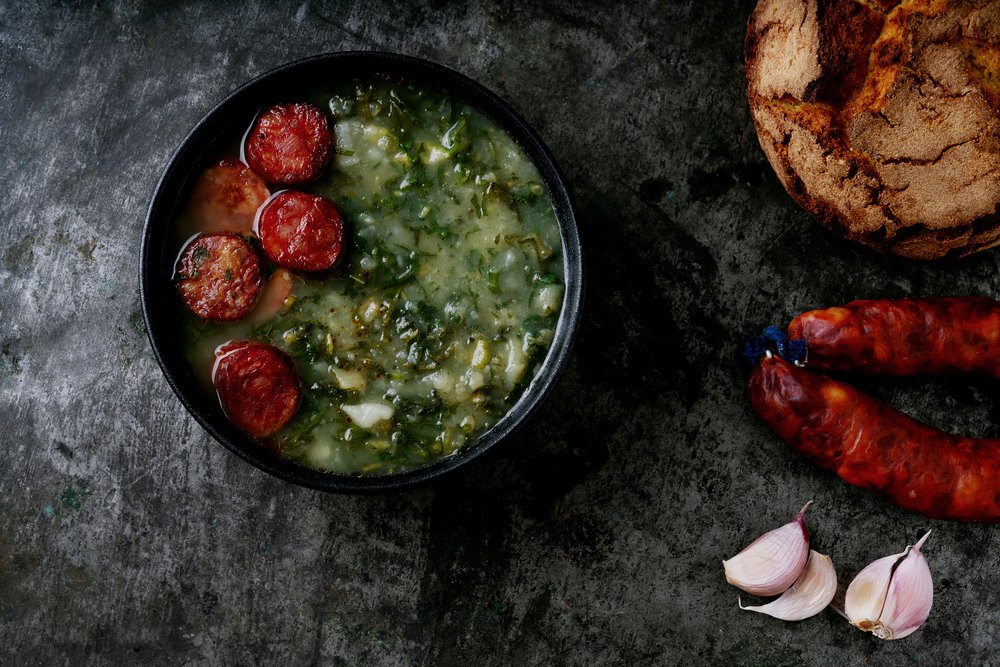 Mmmm… Portuguese food! Traditional Portuguese cuisine is filled with hearty dishes that provide essential nutrients to keep us healthy. From delicious seafood delicacies to heart-warming soups, these five Portuguese dishes are sure to satisfy your tastebuds while providing essential vitamins and minerals. Here's a look at our top five most nutritious Portuguese dishes
1. Caldo Verde

Soup is a staple of traditional Portuguese gastronomy, and caldo verde is a classic example. This hearty soup is chock-full of nutrients and features kale, potatoes, olive oil, garlic, and Portuguese chorizo or linguiça sausage. Not only does this dish contain some great vitamins, but the olive oil adds a boost of healthy fats for heart health.

The kale in this soup is particularly nutritious. Kale contains vitamins that boast some great health benefits, like:

Vitamin K: essential for blood clotting and bone health.
Vitamin A: helps promote healthy vision and boosts immunity.
Vitamin C: helps fight inflammation and can help to boost collagen production.
Vitamin B6: helps regulate hormones and metabolism.

2. Bacalhau com Todos

Bacalhau, or dried and salted cod, is used in some of the most popular traditional Portuguese foods. In fact, if you've ever been to a Portuguese restaurant, you've likely had something made with bacalhau; it is considered the Portuguese national dish, after all!

It's understandable why this preparation of cod is so popular. First, it has vitamins, minerals, and healthy fats that are essential for good health. In fact, those healthy fats (specifically omega-3 fatty acids) can help lower your cholesterol, blood pressure, and your risk of heart disease. Plus, cod is known to boost thyroid function and brain function, too!

Second, drying, salting, and preserving cod is a big part of Portugal's history. It started in the late 14th century, when Portuguese sailors found that salted and dried fish could be stored for years, making it perfect for life at sea. Then, in the 16th century, the English and French took over the waters the Portuguese had been successfully fishing in.

For centuries after, Portugal was dependent on England for cod. That is, until the early 20th century when Portuguese dictator António de Oliveira Salazar launched a campaign to reignite the country's fishing industry. It worked, and despite the work being dangerous, bacalhau's popularity was solidified.

Though the people of Portugal still love other fish and preparations thereof, like grilled sardines, bacalhau is still the most popular Portuguese seafood dish. Of course, the popularity of bacalhau also means that it's used in a lot of traditional Portuguese dishes. In fact, it's said to be used in over 1,000 recipes in Portugal alone!

Perhaps one of the healthiest variations is bacalhau com todos ('codfish with everything'), which is traditionally eaten for dinner on Christmas Eve. This dish has cod, hard-boiled eggs, and plenty of nutritious veggies like carrots, cabbage, and potatoes.

3. Frango Assado

Another popular, delicious, and nutritious Portuguese dish is frango assado. Frango assado is Portuguese chicken covered in piri-piri, a kind of hot sauce, and seasoned with paprika, garlic, cumin, and black pepper. And, of course, this traditional Portuguese food wouldn't be complete without some heart-healthy olive oil!

Grilled chicken has some great health benefits, as well. It's low-fat, high in protein, and provides essential vitamins like niacin and selenium. Plus, the spices used to season the chicken provide their own health benefits, too. The paprika, in particular, is great for your heart and can reduce inflammation.

Frango assado is a great entree, but for a full plate, it should be paired with a side dish or too, as well. A serving of salad, vegetables, or soup are all great options to round out a meal. And if have leftovers? Put some frango assado on whole-grain buns and top with a fried egg for delicious Portuguese sandwiches!

4. Arroz de Pato

Just like you might find burgers, french fries, and melted cheese in American restaurants, you're likely to find arroz de pato in Portuguese restaurants. This recipe uses duck, sausage, olive oil, port wine, onions, cloves, carrots, and rice, and is a popular comfort food in Portugal.

Arroz de pato is a great source of protein, complex carbohydrates, vitamins, and minerals. The duck, in particular, is great for cardiovascular health because it's high in omega-3 fatty acids and B vitamins. Plus, the port wine and olive oil add their own heart-healthy benefits, too.

Arroz de pato is a bit higher in calories than some other traditional Portuguese dishes, so make sure to keep an eye on the portion size. Enjoy it with a side salad or some roasted vegetables to round out the meal and make sure you get all of your essential vitamins and minerals.

5. Bolo de Laranja

When it comes to Portuguese desserts, there are a ton of options, from pastel de nata (Portuguese egg tarts) to caramel flan. But for a bit of a healthier twist on this Portuguese cuisine, try bolo de laranja.

Bolo de laranja is an orange cake made from freshly squeezed oranges, sugar, eggs, and flour. It's not overly sweet like some other desserts, nor is it slathered in icing, which makes it a great choice for a light after-dinner treat.

As far as nutrition goes, the oranges are full of vitamin C, which can help you to fight off colds and infections, while the eggs provide some lean protein. And because this recipe isn't made with a lot of extra fat or sugar, it's a healthier option than many other Portuguese desserts. Plus, it's delicious!

Looking for more nutrition advice? Talk to your doctor at Prima CARE! They can help you to make changes to your diet so that you can live a healthier lifestyle.
The Prima CARE team is committed to helping you find the best care available. Whether you need a regular checkup or have specific health concerns, we're here for you. Schedule your next appointment today!