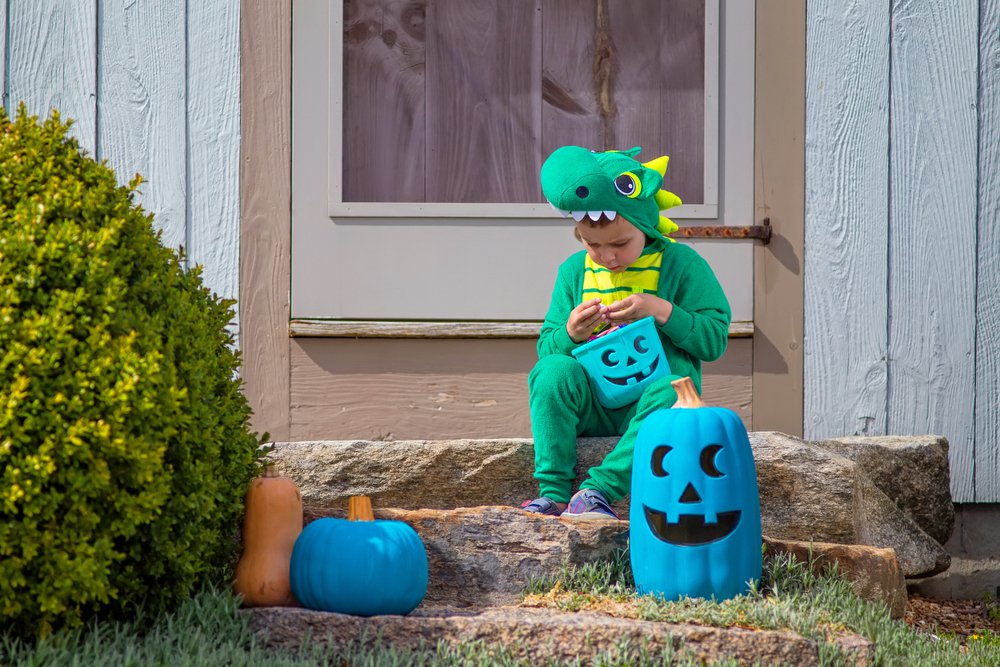 No child wants to have an allergic reaction during Halloween festivities, and no parent wants to deliver an emergency treatment for an allergic reaction ever. Helping your child avoid food allergens throughout the rest of the year is difficult enough, but it can be even harder to control what candies end up in your child's plastic pumpkin or empty pillowcase during the fun and commotion of trick-or-treating.
In an effort to help you make Halloween less scary, more safe, and more fun for your child, we've put together a list of tips and tricks to remember while collecting candy this year:
Seek Out Teal Pumpkins

When you're out on your trick-or-treat route, make sure to look for houses with teal pumpkins. The Teal Pumpkin Project, created by Food Allergy Research & Education (FARE), is a movement to make this spooky holiday safer for kids with food allergies. If a house has a teal pumpkin on their doorstep or near their trick-or-treating setup, they're signaling that they have allergen-free, non-food options available as a treat. FARE even has a Teal Pumpkin Project Map on their website that allows families to locate participating houses in their area.
Hand Out Trinkets, Not Treats

If you're wanting to participate in the Teal Pumpkin Project, the easiest way to do so is by handing out toys instead of candy (and by purchasing a fake teal pumpkin or painting a real pumpkin during your carving session). By avoiding food altogether, you also avoid food allergens altogether. However, if your Halloween simply isn't complete without handing out some candy, you can also keep candy and toys in separate buckets. This way, the costumed kids coming by can pick from their preferred bucket, food allergies or not.

If you're worried buying toys for the whole neighborhood might get too expensive, try searching online for terms like "toys in bulk" or "wholesale toys." Several different online retailers sell fun trinkets like plastic vampire teeth, spider rings, and glow stick bracelets in large quantities at low prices, letting you join in on the Teal Pumpkin fun! Depending on what you choose, you might even end up spending less on trinkets than you would have on traditional candy.
Read Every Label

It's unlikely that every house you and your child visit will be participating in the Teal Pumpkin Project. With this in mind, make sure to have a conversation with your child beforehand to establish a "no eating while trick-or-treating" rule. If needed, you can even try to employ this rule with children in other families you might be roaming the neighborhood with.

This rule is important because it will allow you to read the labels on candies at home before your child can eat them and start showing symptoms of an allergic reaction. Here are a few things to keep in mind as you sort:

Avoid any candies or foods that don't have a label.
Some candies might contain different ingredients based on their size. For instance, a "king-sized" version of a candy might contain a food allergen, while a "fun-sized" version may not, or vice versa.
Candy that has been safe for your child in the past may have had its recipe changed.
Depending on your child's age, this might also be a good time to teach them how to read ingredient labels.

No matter what, read every label.
Focus on the Fun!

Trick-or-treating should be fun for both you and your kiddo. The "no eating while trick-or-treating" rule makes it so that you'll have time to review labels later, so make sure you do just that—review them later! Be as watchful as you normally would be, but allow yourself to be in the moment and enjoy your night with your cutely-costumed kid.

The fun doesn't have to stop after trick-or-treating, either. Once you've finished sorting through all of the collected candy, there are fun ways to get rid of the leftovers. If your child is younger, FARE suggests having them leave out their candy for the "Good Witch," who will trade it for toys or safer candy, just like the Tooth Fairy trades teeth for money. When the Good Witch's trade is complete, you can donate the leftover candy. If your child is older, it can also be fun to let them help with the donation process.

However you celebrate this spooky season, make sure to keep those with food allergies in mind. Whether your own child has allergies or you just want to be mindful of the kids in the neighborhood who might, you can help make Halloween a safe and fun event for the children around you. Set out a teal pumpkin and enjoy trick-or-treating!
If your child has food allergies, or if you're searching for allergy testing near you, don't wait; Prima CARE has the resources you need. Our board-certified allergy specialist, Dr. Joseph Zhou, can help you and your family with allergy treatments, if previously diagnosed, or with allergy tests, if you're unsure what's causing an allergic reaction in your child. Before trick-or-treating this year, schedule an appointment online or call (744)-375-0504 for more information.